Sony Ericsson P990i Smart Phone Notes
Other Sections
Other PDA Devices
If you're looking for info on the P1i, click here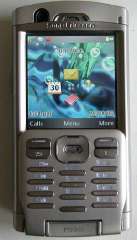 I've always liked Sony's top-end smartphones, ever since I bought a P800, way back in 2002. After the P800 came the enhanced P900 and P910 (neither of which I owned myself). The P990 came out in 2005 and was the first smartphone powerful enough to use for serious business use. With Symbian 9.1 OS with UIQ 3.0 user interface, touch screen, 2 megapixel camera, FM radio and WiFi support, it was a phone which had all the features I required. In use it was slightly underspecced, resulting in occasional memory problems when running applications. It was superseded by the P1i which addressed the memory problems and provided a slightly better camera, but was a less pleasing design, being based on the cheaper looking T630 type design.
As I no longer own one of these phones, this page is rarely updated, but is left here for legacy and support information.
Latest firmware
The latest version of the firmware, as of 1st Aug 2007 is:-
Phone: CXC 162037 R9G007
Bluetooth: CXC 162058 R5A01
Organizer: CXC 162036 R6D23
CDA: CDA 162007/1 R6D23
Hints and Tips
Links to other handy sites
Sony updates
Collections of Free Software
Useful Utilities
Magnus Nordlander has created a kext (kernal extension) that allows the P1 and P990 to mount on Apple Mac OS X via USB. [More]
You can download it directly from magnus.nordlander.tk/wp-content/uploads/2007/01/M600USBFileEnabler.zip. A mirror copy is available here, just in case Magnus' site is unavailable.
Themes
Add a comment to this article
I am sorry to report that no further comments are to be left for articles here. We thank you for past comments. This feature has been disabled.