Sony Playstation 3 Technical Support
PS3 Networking, Internet, Game Information and Blu-Ray stuff
Having been rather disappointed with Sony's level of technical support for their new Playstation 3 console, I decided to write my own notes and technical support help down, so that other people may find it useful.
I hope the information on, and linked from, this page will prove helpful to people new to the Playstation 3.
More sections will be added as I get more time, and discover more 'quirks' with the PS3.
Discussion Forum
I have a dedicated Playstation 3 section on my interactive discussion forum at forum.vigay.com where people are welcome to swap technical information and game hints 'n' tips. I also monitor the forum, so I can try to offer technical support to questions asked.
Networking, Internet & Broadband
For the 'day job' I specialise in internet help & networking, so I've written some articles about how to configure the Playstation3 network settings and also the firewall in your router.
Wired connection - A step-by-step guide for configuring the PS3 for a wired network.
Wireless - A step-by-step guide for configuring the PS3 for wifi connectivity.
Firewall - How to configure and setup your router firewall for your favourite online games.
Game Reviews and Comments
MotorStorm - a very quick review I posted on my blog.
Online Gaming Firewall Rules and Ports
Consult my ISP instructions for online network configuration, but I've included a couple of other ports in the standard Playstation Network access, as ports 3659 and 3660 seem to be needed for joining MotorStorm online games.
Sony's online manual doesn't make it entirely clear which ports are required for certain games, which can cause problems connecting, depending upon how secure your firewall is. The following table contains some of the ports required open by some popular games.
The following table has taken some time to compile, and is subject to ongoing updates. This is because in order to ensure which ports are required for each game, I have to reset the router between each game - just in case opening ports for one game also affects another game, thus giving an incomplete map of which ports are specifically required for each game.
Game
Ports required open / Notes
Battlefield: Bad Company
UDP: destination port 18805 outbound.
UDP: Source and destination port 10000 outbound + inbound.
UDP: source ports 11000-11030 outbound.
Burnout Paradise
UDP: destination ports 9651 - 9705 allow outbound + inbound.
Call of Duty 3
UDP: source and destination port 3074 allow outbound + inbound.
This game seems a bit tricky to configure because quite often it refuses connection to a game, with an error such as "Could not connect to hosting player" or "Could not connect to all players", but it would appear that could be down to individual firewall settings of the other players.
Call of Duty 4
UDP: source and destination port 3074 allow outbound + inbound. (same as Call of Duty 3)
Colin Mcrae DiRT
UDP: source and destination port 3074 allow outbound + inbound. (same as Call of Duty 3)
Condemned 2
UDP: destination port 27900 outbound (without this port open the PS3 seems to reboot when attemping to download the update!)
UDP: destination port 27901 outbound.
UDP: destination port 27888 outbound.
GT5 Prologue
UDP: Source port 3658 allow outgoing.
Haze
UDP: destination port 3074 outbound
UDP: source and destination port 30004 outbound + inbound.
Metal Gear Solid 4
TCP: destination port 5730 outbound + inbound (for game updates/downloads)
UDP: destination port 5730 outbound + inbound.
MotorStorm
UDP: Source & Destination ports 3659 - 3660 allow outbound + inbound
N.B.MotorStorm can suffer from 'lag' in online games if the firewall settings are not quite correct.
Need for Speed: ProStreet
awaiting testing!
Rainbow Six Vegas
UDP: Source and destination port 58080 allow outbound + inbound.
Resistance: Fall of Man
Source UDP ports 6505 - 6999 allow outbound
SingStar
Destination TCP ports 10060-10061 allow outbound
Destination TCP port 10010 allow outbound
TimeShift
UDP: Destination ports 27900 +27901 allow outbound + inbound.
UDP: Source and Destination port 7777 allow outbound + inbound.
Unreal Tournament
UDP: source ports 55255 - 55275 outbound.
Warhawk
It seems that Warhawk needs quite a few ports to be opened, to prevent the "this game is full" error messages preventing you from joining online games.
You require UDP ports 6000 - 6499 to be open outgoing (incoming can be blocked) as well as outgoing UDP port 10029.
I've also disocovered that TCP port 53346 should be open for outgoing connections.
N.B. This table is subject to revision as more information is discovered.
Using External Devices
Bluetooth Headsets
You should be able to use any bluetooth headset with the PS3. However, in my experience the best one I've found is the Plantronics Pulsar 590A stereo bluetooth headset, costing around £65.00.
I've written some setup notes to help you get them working on your PS3.
USB Pendrives
You should be able to read your ordinary files (MP3, JPEG etc) on USB Pen drives inserted into one of the PS3 USB ports. However, sometimes you'll get the "There are no tracks." message when you try to access the files from the Pictures or Music options. Press the button and select the Display All option. The PS3 will then allow you to view all files on the pen drive.
Upgrading your Hard Drive
Although the standard PS3 hard disc is a reasonably adequate size for game saves and general gaming, it can soon become a bit small if you start saving movies and music, especially if you've upgraded to the Play TV and want to use your PS3 as a hard drive video recorder.
Luckily it's relatively easy to upgrade the hard drive, simply requiring a 2.5" SATA hard drive which you can buy from Amazon or somewhere. I've written some detailed HDupgrade instructions, detailing how I fitted a Western Digital WD3200BEVT 320GB hard drive to mine.
Connecting to a Media Server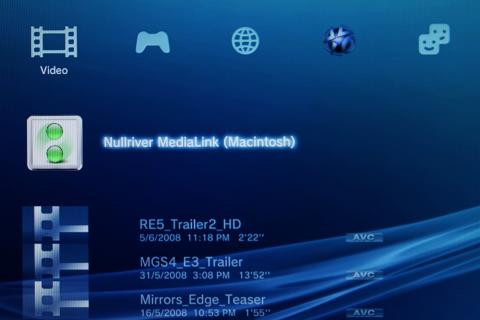 Using an Apple Mac
There are several ways of using an Apple Mac as a media server so that your PS3 can view movies and iTunes music. The top three media servers seem to be MediaLink, EyeConnect and TwonkyMedia.
I use MediaLink myself, which I find very good, and easy to setup.
However, it's not without it's quirks and I did find it initially tricky to get working. Not because it was difficult, but purely because the Mac and the PS3 wouldn't 'see' each other. This turned out to be a problem with the firmware in the router rather than any firewall issue. See my networking instructions problems section for more information.
Sony PS3 Error Codes
80010514
This error seems to be a bit of a mystery, but points to a probable hardware fault with the internal Blu-ray drive. This is a non serviceable part, so you should contact Sony and perhaps arrange for a replacement machine.
I'm wondering if it's perhaps dirt or dust getting into the drive (the PS3 does tend to attract dust quite readily) so you could try running a CD cleaner on the drive.
80010516
I've only seen this error a couple of times but seems to indicate a temporary problem with the blu-ray drive. Perhaps the disc has not been inserted correctly. The message is usually "An error occurred during the start operation. (80010516)" when you first insert a disc. Select play again and it should work ok.
8002AD23
The symptoms of this error are being repeatedly disconnected from the Playstation Network every so often. I'm not sure what causes this error because I've never encountered it myself. However, there are some things you could try:-

Make sure the firmware in your PS3 AND Router are up to date.
Make sure your router is configured to stay connected permanently, so you should check things like 'nailed up connection', 'idle timeout' or 'stay connected' settings.
Also check your router's firewall settings to ensure that you've allowed access to the PS Network (UDP ports 3658-3660)

8013013E
This is generally caused by an incompatibility between the PS3 wireless security and your router. Switch from TKIP to AES encryption if using WPA security. For more information, see my wireless setup instructions.
80130203
Generally indicates that your firewall is blocking certain ports and a NAT type can't be detected. Try opening UDP ports 3478 and 3479 (STUN). You should then be able to get a NAT type of 2. (see error 80710102, below)
80710102
Usually caused when trying to get online for the first time and is caused by UDP ports 3478 and 3479 (STUN) being closed on your router. See my firewall configuration page for more details.
8077101FF
"An error occurred during communication with the server. This is a DNS error. (8077101FF"
Again, this is caused by your firewall blocking UDP ports 3478 and 3479 (STUN). See above.
Photographing the TV with a Digital SLR
As an aside, I think I'd include some notes for anyone interested in photographing the TV screen. This can be harder than it sounds, especially with modern digital cameras, which are not as good as old 35mm film cameras at this task.
After much experimentation, I've found that setting the camera up on a tripod, approx 3' (or 36") away from the TV screen, using a standard (50mm) lens, is about the optimum positioning. I then take the photos with an exposure of 1/200th sec at F5.6 (ISO 1000), which is the settings that all my screenshots were taken with.
Add a comment to this article
I am sorry to report that no further comments are to be left for articles here. We thank you for past comments. This feature has been disabled.