Webworkz
Download:
Webworkz.zip [38K]
Version:
1.03 (29th Jun 2008)
Downloaded:
86 times
32-bit:
Yes
Requirements:
RISC OS 3.10 or above
256K wimpslot
Licence:
Shareware
£15.00

Purpose

Webworkz has been designed to be as simple to use as possible, in order for you to convert your Fireworkz files into web (HTML) format.

It has a minimum of controls, as it's intended to be painless to use, yet create the best quality conversion/rendering of the file in HTML format suitable for web publishing.

Unregistered versions are fully featured, but limited to tables up to 10x10 in size.

If you would like to register via PayPal, please click on the PayPal icon, which will be handled on my behalf by Digital Phenomena Ltd. Alternatively you can post a cheque (details in the !Help file inside the application).
Web Tools
Webworkz forms part of my growing range of tools for making web design easier. The internet is one area lots of people are interested in at the moment, and I'm always developing tools to make life easier for RISC OS based web designers - such as utilities for automating time consuming or repetitive tasks.
Users of Webworkz might also be interested in WebGallery, for automatically creating online photo galleries from directories of images, or WebAnim8r for creating animated graphics for web and presentation. If you have any suggestions for future applications please contact me as I'm always looking for ideas for new programming projects.
Screenshots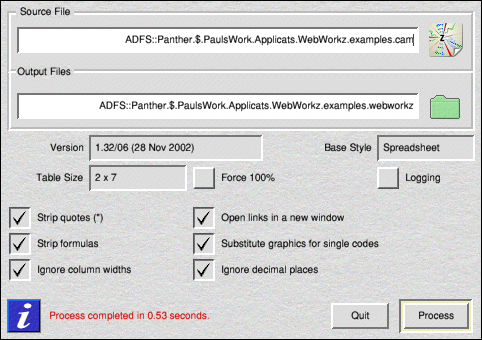 The main window, showing the various controls.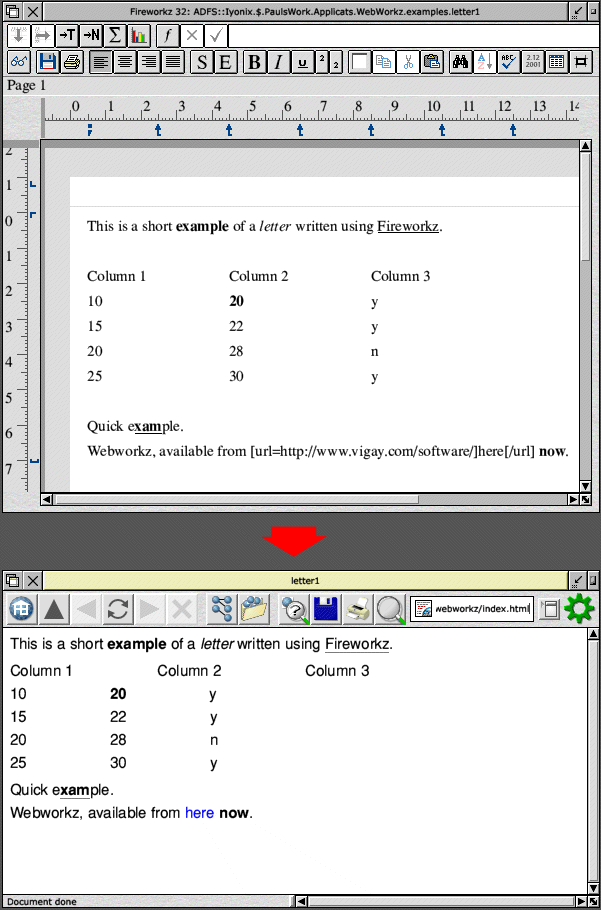 Results of converting a Fireworkz file (top) containing a number of different 'effects'. The converted (HTML) file is shown below.
Note that in letter mode, tabbed spacing is not quite correct due to proportional fonts being used in web browsers. However, if you create a table in spreadsheet mode, all columns will be neatly positioned and correct. (another example screenshot coming soon)
History
Click here to view a detailed history of Webworkz versions.
Add a comment to this article
I am sorry to report that no further comments are to be left for articles here. We thank you for past comments. This feature has been disabled.