Configuring Thunderbird for Email
Thunderbird is an email client designed and written by Mozilla - the people who developed the Firefox web browser. It represents much better security and ease of use than Outlook Express, so is worth switching to Thunderbird, even though you have to download and install it rather than use Outlook Express, supplied free with Windows.
Thunderbird can be downloaded for free from www.mozilla.com/en-US/thunderbird/
Once you have downloaded and installed Thunderbird, follow these simple instructions for configuring it for Orpheus email.
Step 1
The first time you load Thunderbird, it will ask you to setup a new account (fig.1). Leave the Email account button ticked and click on Next >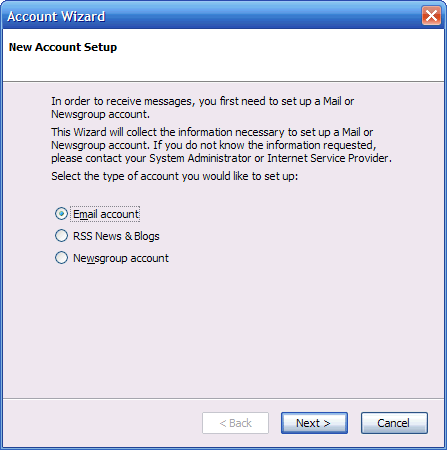 Fig.1 - Creating a new account
Step 2 - Setting your identity
Enter your name and email address, then click on Next >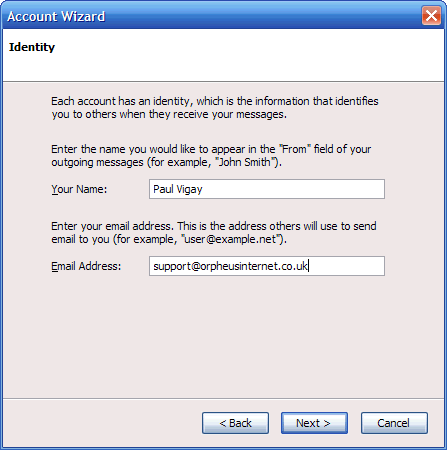 Fig.2 - Setting your Identity
Step 3 - Server Information
You should now enter the relevant incoming and outgoing server information. This was supplied with your original account documentation and is pop.orpheusnet.co.uk for incoming (POP) mail and smtp.orpheusnet.co.uk for outgoing (SMTP) mail. Click on Next > to continue.
N.B. A recommendation is to untick the Use Global Inbox option which will ensure that this email account has it's own top-level inbox, which is useful if you're planning to add further email accounts.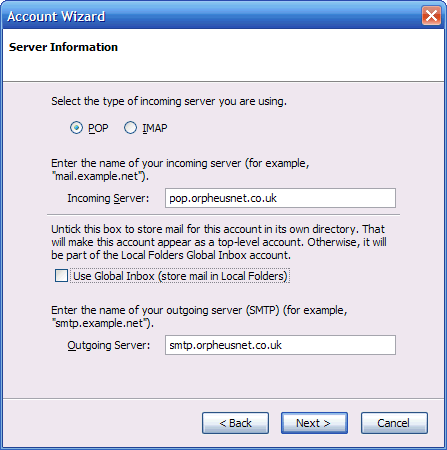 Fig.3 - Server Information
Step 4 - User Names
You now require your Orpheus POP3 username, again supplied with your account documentation. This is usually in the form of two or three letters followed by a number. Enter this for the Incoming User name
Orpheus don't require a username for outgoing mail, so ensure the Outgoing User Name is blank.
Click on Next > to continue.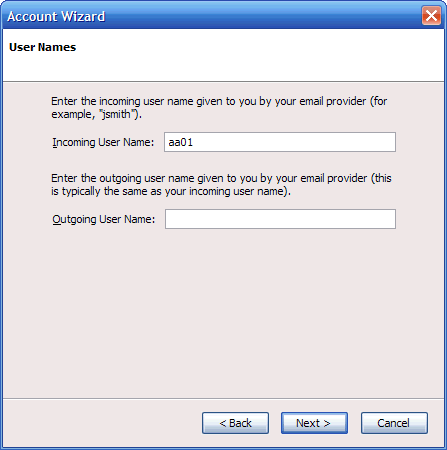 Fig.4 - User Names
Step 5 - Account Name
You should now enter a name to call the new account. This can be whatever you want and is used by Thunderbird to identify the account. What you type here will appear in your listing of mailboxes.
Click on Next > to continue.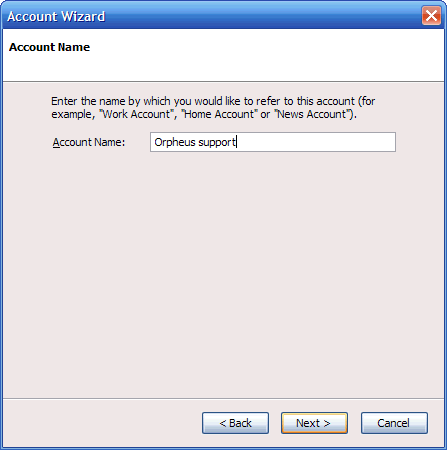 Fig.5 - Account Name
Step 6 - Finished!
The setup of your email account is now complete and you will be shown a summary of the details you entered. You're also given the option of downloading messages now. Set the tick box accordingly and click Finish.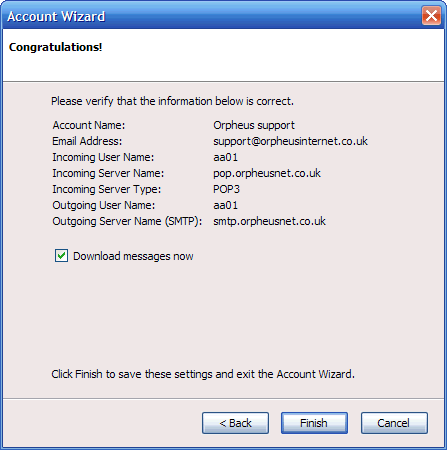 Fig.6 - Finished!
Checking Email
The first time you fetch email for a new account, Thunderbird will ask you to enter the password for the relevant account (fig.7). Enter your POP email password and tick the box if you want the computer to save your password for future reference (which will save you having to remember it and enter it each time you check mail for this account.
Click OK to continue and start fetching mail for this account.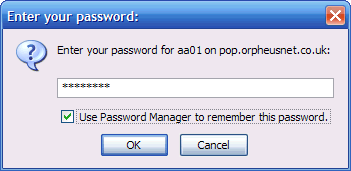 Fig.7 - Entering your password
Your account should now be setup and working. Thunderbird will display a window containing any new email messages for you, and a sidebar containing the various mail folders for your newly created account. See fig.8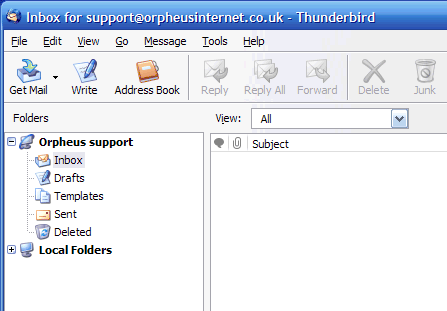 Fig.8 - Main Thunderbird display
Securing your Emails via Secure Encryption
I would advise everyone to think seriously about encrypting their emails so that friends, colleagues, snoopers or law enforcement cannot read your communications. In these days of 'Big Brother' surveillance states and Orwellian governments, we need to be ever more vigilent to fight against draconian schemes to erode our freedom and privacy.
To this end, I've written some detailed instructions on installing Gnu Privacy Guard with Thunderbird.
Add a comment to this article
I am sorry to report that no further comments are to be left for articles here. We thank you for past comments. This feature has been disabled.