Third Party RISC OS Software & Support
In order to further promote the use of RISC OS as a superior alternative to the flawed Microsoft Windows operating system, I have pleasure in hosting the software linked to below;
If you're a Windows luser who happens to have stumbled across this page then there is nothing for you here - unless you decide to upgrade to a superior computer platform.
This page contains either software that was either originally released by third-party developers or is my own support for third-party peripherals suitable for use with RISC OS.
What's New
A 32-bit compatible version of ABCLib (version 4.15) is available to download here (11K).
Installation
It should be placed in the !Boot.Resources.!System.310.Modules directory (just overwrite any older version already present). I would then recommend rebooting the machine. It will be detected automatically by everything that requires it.
A postscript PDF capable of driving Xerox 8550 colour laser printers (and hopefully others) in full duplex mode from the standard issue !Printers, with or without 'tumbling' (automatic rotation of the second side by 180 degrees).
Download Xerox.zip [8K]
I have also developed a more comprehensive application for the pre-processing of Postscript files prior to sending them to the bigger, professional printers. This application provides more comprehensive support for postscript printing options than the standard RISC OS printer driver. At present, this application was written exclusively for RISC OS Now magazine and has it's own page at PGP Now
The MimeMap file informs RISC OS how to map filenames from other operating systems into RISC OS filetypes. For example a file called "Word.DOC" on a Windoze machine, might need to load into Techwriter, so RISC OS would need to know that .DOC files translate to 'MSWord' RISC OS filetype (so that a double-click will load into Easi/Techwriter).
Should anyone find it useful, I maintain a centrally updated MimeMap file that people are welcome to use, should it prove useful to them. Please feel free to contact me if you have any other filetypes you would like entries for. I can then keep this copy up-to-date.
Download mimemap.zip [2K]
Simply merge with !Boot or copy MimeMap into !Boot.Resources.!Internet.files

OpticalB (46K) - No top bit characters.
SansMono (103K) - Ideal for email and includes top bit characters.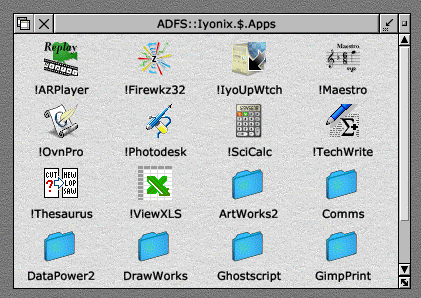 Mini ToolSprites (1402 bytes) - A copy of Ian Giblin's mini toolsprites that I've modified slightly to give slimmer close/minimise icons and pale yellow depressed slider bars.
N.B. To save asking, the desktop font is set to Verdana, 9pt.
Over the years I've collected a huge range of random taglines and witty or thought-provoking proverbs to sign my emails with. I've decided to make them available in case people want to use them themselves. There are currently over 600 in the ZIP file.
Suitable for use with Pluto, AntUtils or any other application which requires each quote on a newline.

WorkSpace is an excellent little utility to manage multiple desktops. It's ideal for anyone like myself who find that they often run out of screen space when manipulating lots of windows all over the place.
I've designed a minimalist set of replacement sprites for the application and thought I'd share them here. Simply de-archive and drop over your existing copy of WorkSpace.
WorkSpace was written by David Ruck and is available from http://www.armclub.org.uk/free/.
!BubbleHlp is an interactive help application, originally written by Miles Sabin, and distributed here with his permission.
Permission to use, copy, modify, distribute and sell this software and its documentation for any purpose is hereby granted without fee, provided that the above copyright notice appear in all copies and that both that copyright notice and this permission notice appear in supporting documentation. Miles Sabin makes no representations about the suitability of this software for any purpose. It is provided "as is" without express or implied warranty.
Additional acknowledgements are made to John Ferguson for designing additional bubble sprite sets.
Downloads
!BubbleHlp v2.21 (112K) (32-bit conversion by Philip Ludlam)
!BubbleHlp v2.11 (113K), or including source code (448K)
!BubbleHlp v2.02 source code (229K)
!BubbleHlp v1.11 (11K)
Ovation format Manual (121K)
BHLocal (1614 bytes)
SetTokens (2180 bytes)
StartDemo (12K)

A PD reader for viewing Magpie multi-media databases/
Download MagpiRead.zip (69K)
WorldFood.zip (370K) - An educational look at World Foods, by Sandy Leaton Gray
Various RealAudio files/conversions and source code are available on a separate page.
Add a comment to this article
I am sorry to report that no further comments are to be left for articles here. We thank you for past comments. This feature has been disabled.