TextTidy
Download:
TextTidy.zip [13K]
Downloaded:
184 times
Version:
1.03 (17th Feb 2009)
32-bit:
Yes
Requirements:
RISC OS 2 or above
40K wimpslot
Licence:
Freeware

Purpose

A small application to strip control codes or linefeeds from text files that may have been transferred from PC applications to the Acorn.

TextTidy will also convert non-HTML friendly characters into the correct HTML entities, so that you can convert text files into HTML files.
Screenshots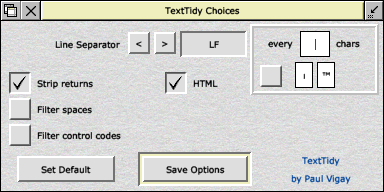 The Choices window.
Add a comment to this article
I am sorry to report that no further comments are to be left for articles here. We thank you for past comments. This feature has been disabled.