Sherlock Holmes on a Disc
Download:
Sherlock.zip [112K]
Downloaded:
156 times
Version:
1.12 (9th Oct 2007)
32-bit:
Yes
Requirements:
RISC OS 3.1 or above
Long filenames
1200K wimpslot
Licence:
Freeware
Known Bugs:
Search causes the text to disappear.
No audio included.

The Complete Sherlock Holmes on CD rom. This application was originally by written myself for Cumana to bundle with A5000 computers to schools. A number of people still find it useful, even on much more modern systems, so I updated it to work with newer font managers and RISC OS 4/5, including Select.

Text and Picture data

For those of you who don't have the original CD Rom (which I believe is no longer available, even from thee who hath it in stock), you can download the full data for Sherlock, complete with illustrations. This is 6MB long as a ZIP file and extracts to approx 12.5MB.

Download: SherlockData.zip [6M], downloaded 217 times.

N.B. The download version does not include the audio tracks, which total 440MB. You will require the original CD if you want the music.

To install, create a directory on your hard drive called data and extract ALL the files from within the SherlockData.zip archive into this new directory. Then edit the !Sherlock.Config file and look for the line starting datapath=
Amend the filepath on this line to point to the full filepath of wherever you just installed the data directory. Save the file and you should now be able to run !Sherlock without requiring the original CD Rom. (see screenshot on Bible page for an installation example)
Main features
Reader for the Cumana CD Rom, originally written back in 1992
Contains text of all Sherlock Holmes stories.
Contains reproductions of original woodcuts.
Powerful & fast search facilities
Fully RISC OS compliant.
Current Limitations and Known Issues
As I've not had as much time as I'd have liked in order to complete my 32-bit conversion, I'm making this preliminary version available to allow people to use the application without waiting any longer. I hope to address the 'search' bug as soon as possible. (Jan 2008)
Search routine doesn't work yet. I'm investigating this problem, but if you perform a search, the text in the main text window disappears. This is probably a silly typo in the 32-bit conversion somewhere, so watch this page for updates.
No Audio. There are no audio tracks included in this version, although the player code is working ok. The audio comes to approx 402MB so is too large to make into a download. If you want to have the original audio, I suggest you try locating Sherlock on CD.
Screenshots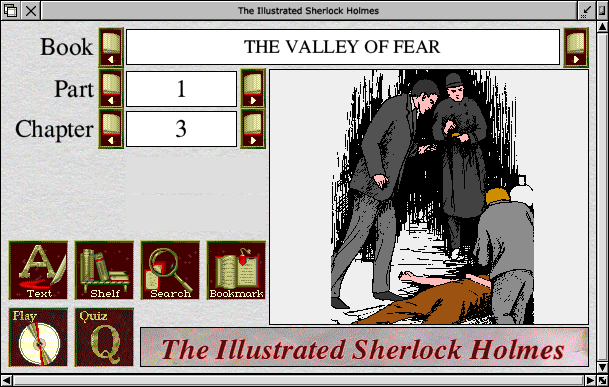 - Showing the main display window.
More Multi-Media
If you find !Sherlock useful, you may be interested in The Illustrated Holy Bible or The Illustrated Works of Shakespeare, which are also available as RISC OS multi-media applications.
History
There follows a concise list of changes between each version, in reverse date order so that the latest changes are listed first.
N.B. The latest version may not necessarily be the released version, as current development is also shown here.

 v1.12 (9th Oct 2007)
        a) Made 32-bit compatible and tested on the Iyonix.
 v1.11
        a) Extended Font allocation and tested ok ok Risc PC's and StrongArm machines.
 v1.10
        a) Pictures now load correctly after displaying credits.
 v1.09
        a) 's' local variables tidied up to prevent 'add ex' error.
        b) search speeded up by removing index loading.
 v1.08
        a) Fixed erratic search 'address exception' bug
        b) replaced searchavailable% with sa%
 v1.07
        a) Search window cleared as new search is started.
        b) Typing in part number goes to correct part.
 v1.06
        a) bookmark 'goto' extra bug fixed.
        b) Bug in text centring fixed.
 v1.05
        a) bookmark 'goto' bug fixed.