Commander
Download:
Commander.zip [62K]
Downloaded:
329 times
Version:
2.56 (6th May 2008)
32-bit:
Yes
Requirements:
RISC OS 3.50 or above
220K wimpslot
Licence:
Shareware
£25.00
Disc Commander will NOT work on Windows or Mac OS computers. It is for RISC OS only, and I have no plans to convert it to other systems.

Purpose

Disc Commander is a fully featured Disc Toolkit and sector editing application for RISC OS computers.

It can search for and recover portions of disc or deleted data and also allow manual editing and recovery of individual sectors on the disc.

Features include...

· RISC OS 4 & 5 compatibility - Disc Commander will manually edit E+ and F+ format discs (RISC OS 4 long filename format) and is compatible with RISC OS versions 4,5 and 6.

· Disc Sector Editor - Disc Commander's most powerful feature! Allows you to specify any parameter, right down to gap sizes and sector ID values if you like. Commander will read and write individual sectors or marked sections of the disc. Deleted file and corruped disc recovery are now within the reach of even novice users, thanks to Commander's ease of use and simple to understand manual. Commander can even change format automaticzlly from track to track. The disc sector editor is fully multi-tasking and even lets you import and export sector data to other RISC OS applications such as a text editor. Commander will read discs that other disc editors won't even touch, including discs that give 'Unformatted' or 'Broken Directory' errors.
Because Disc Commander looks directly at the disc rather than the format, you can even use it to recover PC or Mac discs.
· Disc Text Search - Coupled with the sector editor, this lets you scan an entire disc for the occurrence of a requested string or sequence of characters, making searching for deleted files that much easier. Registered users can also choose from a range of preset filetypes, making searching for, eg. lost JPEG files easy.
· Disc Service - Commander has the capability to service a complete disc by verifying it and automatically trying to recover any corrupt sectors it comes across. This is not quite so thorough as recovering sectors by hand, but greatly saves time and can be a handy 'last resort' for non-computer users.
· Floppy Disc Scramble - Commander can scramble the entire contents of a floppy disc (useful in this world where free speech is threatened). All you need to do is supply a password and Commander does the rest. Virtually unbreakable encryption to protect your confidential or sensitive data.
Demo Version
Unregistered versions of Disc Commander have 'save' functions disabled. Other than that, the version you can download above is fully functional. Registered users will also receive a full, printed manual.
Screenshots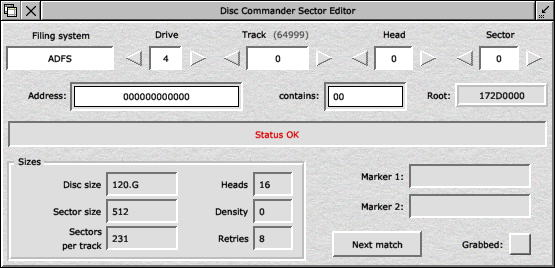 The Control Panel for navigating around the disc and setting primary parameters.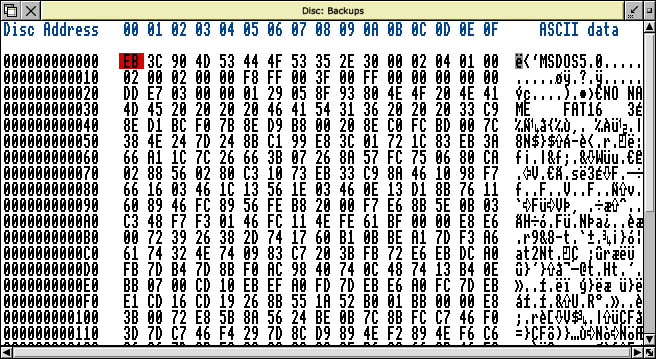 The Disc Sector information, showing the data on the disc, and allowing you to edit it. This window is actually editing a USB pen disc on the Iyonix.
Plugins
DCBackup
Backup most protected discs and make security backups of your floppy discs.
DCFilter
Filter will filter control characters and top bit characters from files.
DCSetType
SetType is an intelligent filetyping application which will attempt to guess the filetypes of files dragged to it. It will also display the version number of modules.
History
Click here to view a detailed history of Disc Commander versions.
Add a comment to this article
I am sorry to report that no further comments are to be left for articles here. We thank you for past comments. This feature has been disabled.