Download:
BigChars.zip [7K]
Downloaded:
482 times
Version:
1.01 (14th May 2006)
32-bit:
Yes
Requirements:
RISC OS 3.1 or above
28K wimpslot
Licence:
Freeware
Purpose
BigChars is similar to the !Chars utility supplied with the computer, but allows the partially sighted to see enormous characters.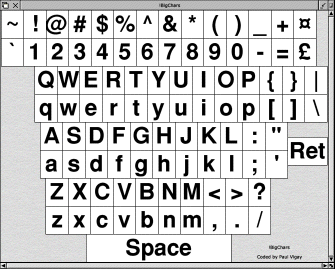 Version History
v1.01 (14th May 2006)
a) Re-compiled for 32-bit operation and tested on Iyonix.
b) Edited !Run file to remove dependency on local copy of ABCLib.
c) Fixed bug whereby all open files were closed on an error.

v1.00 (15th Dec 1990)
First version - should be all working ok.