Higher Ground was created in 1998 by Uno Annalon.

Uno is a brilliant songwriter with a unique style of music, inspiration and an air of magic and mystery. Together with the other band members they have created a distinctive and powerful sound. Inspired by the legends and myths of King Arthur and his Knights of The Round Table, their debut album Torr Stories is already gaining an enthusiastic following.

Critics have favourably compared Higher Ground to the Moody Blues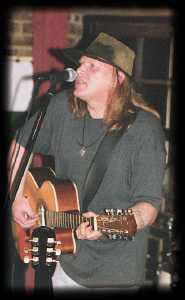 About Uno...

The one thing Uno has above all his qualities is an endless supply of enthusiasm, both in his writing and in the way he motivates the band. He says that writing a song is like trying to get over a point without being too obvious.
And the music is there as support but without taking over the words. And with a band like higher Ground, playing the songs 'live' is, for me, about as good as it gets. Music is a release. A way of shouting without shouting. I think that music is whatever you find in it and what you can take out of the words or music, it can help you find your way.

I remember, the first time I encountered the band. They were playing a gig at The Eastney Tavern in Southsea and I had been invited along by a friend of mine who worked in there. I wasn't sure what to expect as I'd never even heard of them before. However, within 2 minutes of them playing I was captivated.
I'm not sure what it was, whether it was the music, Uno's songwriting, his singing or an amalgamation of everything, but I felt compelled to go and introduce myself after the show. I offered to create them a website and we got chatting. That was the first of what was to become a good friendship between myself and Uno. As anyone who has read The Celestine Prophesy will know, things happen for a reason and I'd met Uno for a reason.
Although the band is no more, and I've currently lost touch with Uno after he moved overseas, their music will forever live on in my mind. It has that timeless quality you can't define yet always remains close to your heart.
Paul