SuperSnake
Download:
Snake.zip [197K]
Downloaded:
721 times
Version:
1.26 (29 Jun 2006)
32-bit:
Yes
Requirements:
RISC OS 2 or above
128K wimpslot
Licence:
Shareware

Purpose
SuperSnake is an up-to-date version of the old arcade classic, Snake. You must guide a snake around an obstacle course, whilst collecting the various items of food. As you collect food, so your tail grows. Fully wimp compliant and runs from the Acorn desktop, complete with a host of options including user definable keys, two player option, computer controlled 'rogue' snake, fast mode etc etc.

This version is optimised for the Iyonix. If you find that it doesn't run correctly on older machines, try downloading the previous version (downloaded 507 times ) which is compatible with Risc PC and pre-Risc PC machines.

If you would like to register via PayPal, please click on the PayPal icon, which will be handled on my behalf by Digital Phenomena Ltd. Alternatively you can post a cheque (details in the !Help file inside the application).
Screenshot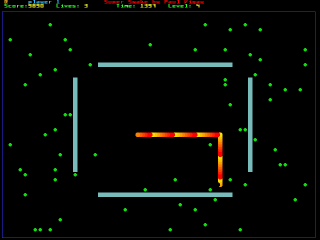 Showing level four, single-player mode. The main game runs in mode 28 and there are over 20 different levels, of increasing difficulty.
I also challenge anyone to get very far on SuperFast mode. :-)
High Scores
If you get a score you're proud of, then why not drop me an email with the score and level you reached and I'll add it to the all-time 'Hall of Fame' below.
| Pos. | Name | Score | Level | Fast Mode |
| --- | --- | --- | --- | --- |
| 1 | Paul Vigay | 100000 | - | |
| 2 | Paul Vigay | 90000 | - | |
| 3 | Paul Vigay | 80000 | - | |
| 4 | Paul Vigay | 70000 | - | |
| 5 | Paul Vigay | 60000 | - | |
| 6 | Paul Vigay | 50000 | - | |
| 7 | Paul Vigay | 40000 | - | |
| 8 | Paul Vigay | 30000 | - | |
| 9 | Paul Vigay | 20000 | - | |
| 10 | Paul Vigay | 10000 | - | |